StoryWalk Ribbon Cutting
April 2, 2021 @ 11:00 am

-

11:30 am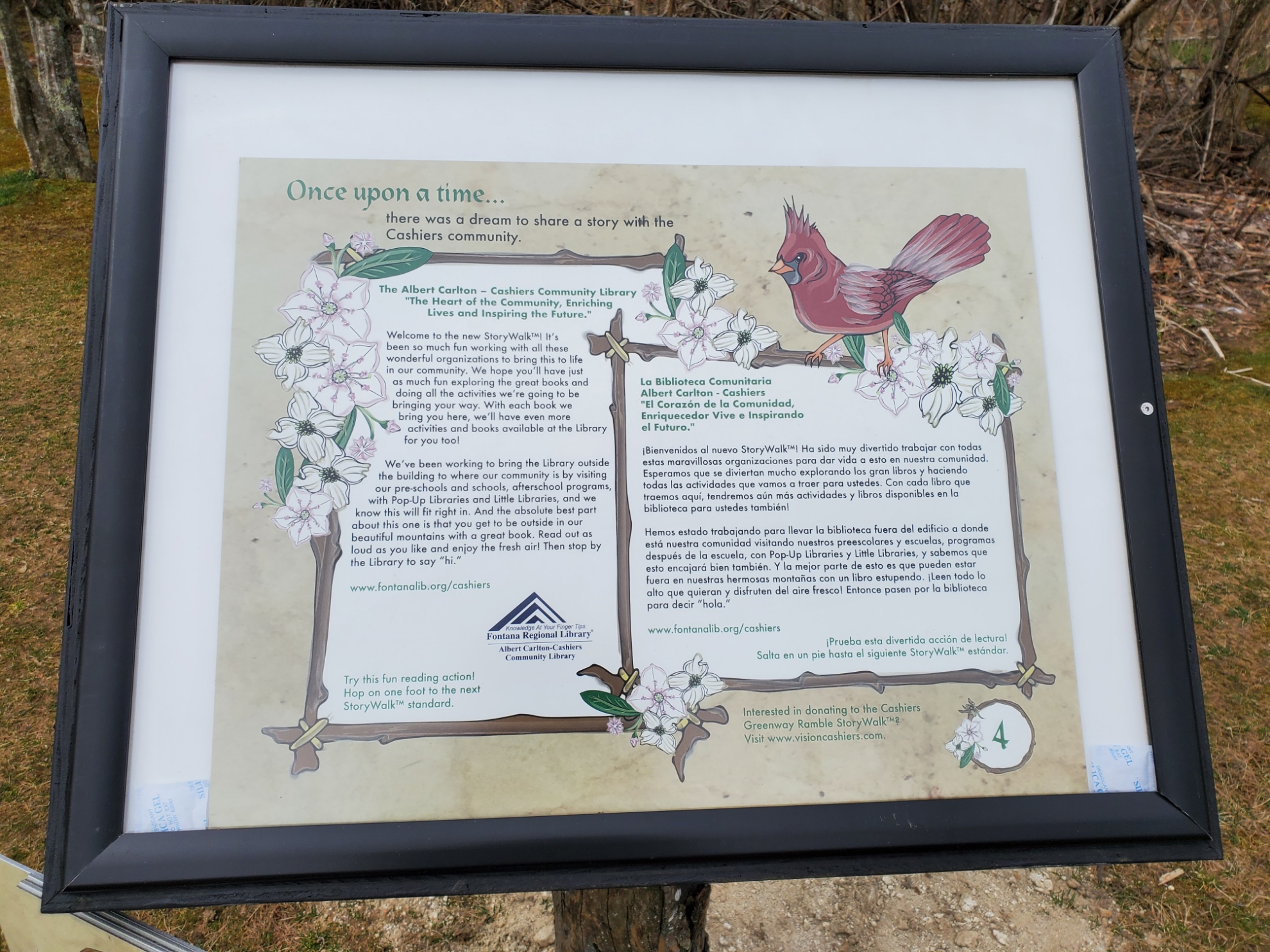 Installation of the much-anticipated Cashiers Greenway Ramble StoryWalk™ in the Village Green is complete. A ribbon-cutting ceremony is planned for Friday, April 2 at 11:00 am at the Village Green picnic area, and coincides with International Children's Book Day. The StoryWalk™ was made possible through a collaboration between Vision Cashiers, The Village Green, The Albert Carlton-Cashiers Library, and The Literary Council of Cashiers.
A StoryWalk™ provides an outdoor adventure that champions reading along with family connection, health, and wellness. Pages of a story are posted at a series of stations along a trail, allowing families and friends to enjoy a story as they walk the path. It is a concept that has taken hold in many communities across the country, and due to the work of many dedicated individuals, the Cashiers community can now embrace its own version. The national StoryWalk™ project was created by Anne Ferguson of Montpelier, Vermont, and developed in collaboration with the Kellogg-Hubbard Library and the Vermont Bicycle and Pedestrian Coalition.
The first installation is up and features The Coming Soon Series, which is a delightful series of 18 pages positioned on a standard base along the park pathway. The intention behind the series is to educate the public about what they can expect from this attraction for their children and to thank the many generous donors for making it possible. Although the content of the Coming Soon Series is geared to adults, each page offers a fun, educational activity for children in both English and Spanish.
To learn more, watch this preview video CGR StoryWalk Promo