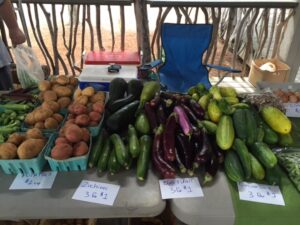 Get to Know Green Market Farmer Don
February 22, 2021
Grass-fed beef, freshly baked bread and bagels, locally sourced honey, wild-caught fish, eggs, herbs and spices, foraged mushrooms, fresh produce, and naturally raised pork are among the fabulous items you can find at the Green Market, a weekly farm to table shopping experience.  Opening in April this year, the Green Market will be from 2:00-5:00 p.m. every Wednesday at The Village Green Commons on Frank Allen Road.
Regular shoppers know that a stop at Deal Family Farms table will yield a basket of delicious greens, a variety of squash and beans, onions, and potatoes.  Customers also enjoy selecting from the wide assortment of homegrown tomatoes.  Just thinking about all of those red, yellow, and ruby-pink maters has us dreaming about putting a few slices on some bread with Duke's mayonnaise. Someone pour the iced tea, please!
Until it's officially growing season, we can only dream about and anticipate visiting the Green Market. And what better way to do that than to get to know "Farmer Don" himself?
The Deal family has been in the area for many generations. In fact, they were among the first settlers to this area. Records show where their ancestors purchased Cherokee lands from the US Government. Growing food on the rich land has been a way of life and a tradition from those first days passed down to each generation.
Farmer Don's dad, who is now 91 years old, was one of two males in a home with an older World War I veteran father, mother, and six sisters. His dad ended up being the sole provider for his aging father, mother, and sisters. In fact, his dad dropped out of high school to work the farm, so the girls could continue to go to school.
Corn was grown to be ground into flour for bread. Cabbage, potatoes, beans, tomatoes, pepper, and more were grown to feed the family. Cattle and chickens also provided dairy milk, butter, and eggs.
So, Farmer Don learned very early in life how to farm and raise livestock. He and his brother David started taking the family produce to local markets about 20 years ago. Since then, they have developed a loyal following of shoppers with their homegrown fresh produce. Farmer Don's parents, Berlon and Dorothy, continue to home garden.  Occasionally shoppers are greeted by a warm smile from his mother who has helped at the Green Market from time to time.
Farmer Don has been coming to the Green Market since it opened five years ago. "The most rewarding part of coming to The Village Green is meeting people, making new friends, and sharing fresh produce," Don says.  He adds, "Cashiers residents are very fortunate to have and should be proud of the facilities at the Green." He especially appreciates that the market can operate rain or shine with plenty of parking, bathrooms, and a nice, open-air pavilion.
Each week at the Green Market is different in one way or another.  Farmer Don notes that much depends upon the weather, the time of year, new vendors. "I remember the market right before the 'Eclipse,' when The Village Green was providing free glasses to view the event.  Visitors flooded the market.  It was almost like a parade," he says.
We asked Farmer Don what he'd put in his picnic basket to bring to The Village Green.  So many choices. He observes that as the growing season begins in spring, the strawberries are luscious, but the sugar snap peas are sweet, too.  Tomatoes, zucchini, green beans and sweet corn are the ingredients for lots of wonderful salads in the summertime.  Every few weeks brings something new to the market that you can pack in your basket.  "Don't forget mountain blueberries or blackberries," he says.  Sunflowers, pumpkins, and apples arrive with fall.  Because Farmer Don and his family have hoop houses for cold weather growing, greens and root vegetables are available year-round.
Start making your shopping list now.  The Green Market will open for the year on Wednesday, April 7.  Be sure to follow The Village Green on social media (@cashiersgreen) to keep up to date with market news, including the current health and safety measures.